Bespoke Hand-Built Kitchens In Hertfordshire
Discover exquisite kitchens that exemplify exceptional craftsmanship and meticulous attention to detail. Our bespoke classic and contemporary designs offer a beautiful way to elevate your home and enhance your lifestyle.
At John Ladbury, we've been designing, crafting, and installing outstanding kitchens for over forty years. As an independent team of dedicated craftspeople and passionate designers, we refuse to settle for anything less than perfection. We craft all our unique, tailormade kitchens at our nearby workshop. Our skilled cabinet-makers only use the finest materials and components alongside a combination of traditional techniques and high-tech machinery to bring our bespoke furniture to life.
From our carefully crafted kitchens to our supportive service, delivering impeccable quality and attention to detail is our top priority. Our experienced and qualified designers will liaise closely with you throughout your journey. They'll ensure your individual design captures your personality while complementing your lifestyle. From design to completion, we're dedicated to going above and beyond to leave you with a breathtaking kitchen that exceeds your every expectation.
Over 40 Years Of Exceptional Craftsmanship
Working as a highly skilled carpenter, John Ladbury built his first bespoke kitchen in 1978. Our beautiful quality products and outstanding craftsmanship quickly earned us an excellent reputation, allowing us to grow into the trusted family business you see today. Now run by sons David and Stephen, we are proud to uphold the same time-honoured values. Quality, honesty, and attention to detail form the foundations of everything we do. As a family team, we go to great lengths to ensure every interior we create represents our company ethos. We get immense satisfaction from helping clients transform their homes with an exquisite bespoke John Ladbury kitchen.
Here at John Ladbury, we recognise the importance of getting your beautiful new Hertfordshire kitchen just right. We know renovating your home can be daunting, and are keen to provide a service that reflects our high regard for our handcrafted products. Our dedicated team will support you at every stage, making sure you have the best, stress-free experience possible.
Our commitment to quality doesn't stop when your kitchen leaves our workshop. We install all our handcrafted furniture with the same care and precision we dedicate to crafting it. Should you wish, we will carry out all the preparatory work needed to bring your new space to life. Our comprehensive, professional service is guaranteed to leave you with a breathtaking kitchen that provides a lifetime of memories.
Our Story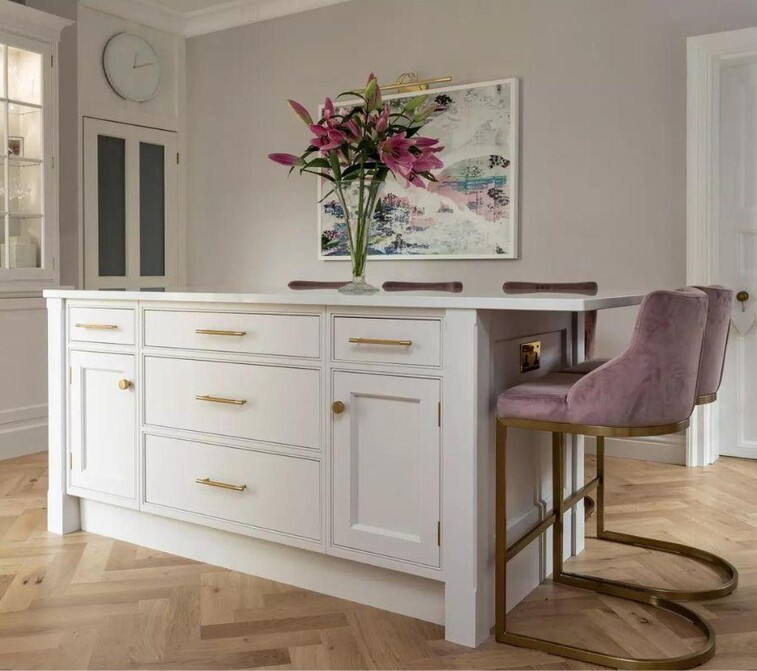 Tailormade Classic & Contemporary Kitchens
We spend much of our time at home in the kitchen. From catching up over cups of tea to celebrating special occasions, there's more to your space than just cooking. Thus, finding a design that captures your individual style and complements your home is of utmost importance. Our collection doesn't just include traditional, handcrafted shaker and in-frame kitchens. We have also designed our own hand-built contemporary range. Encompassing everything from sleek handleless styles to charming classic furniture, our handmade kitchens offer something for everyone. And to ensure your unique space is perfect in every single way, our experts will work closely with you to tailor your design to your requirements.
Our Beautiful Hertfordshire Kitchen Showroom
We would be delighted if you popped into our Welham Green showroom to explore our beautiful kitchens. We are very proud of our stunning, hand-built designs and would love for you to experience our elegant, luxurious quality collection for yourself. You'll find a beautiful range of contemporary and traditional interiors on display, complete with a variety of exquisite worktops, cutting-edge appliances, and lovely finishing touches. Exploring our spacious, two-storey showroom is a wonderful way to find inspiration for your home. If you have any questions about our designs or would like some advice on your upcoming project, we would be more than happy to help. Our design specialists will be on hand throughout your visit to share their expertise. Our fantastic showroom is situated on the outskirts of Hatfield, in Welham Green. We are under a 30-minute drive from Watford, St Albans, Hertford and Cheshunt. For more information on how to find us, please click the button below.
Our Showroom
Talk To A Member Of Our Expert Team
If you're looking for an elegant and timeless focal point for your Hertfordshire home, the John Ladbury team are here to help. Simply click the button below to discuss your project with one of our experts.