WE'RE BACKING BRITAIN
If there was ever a more fitting time to back Britain, this is it. We have no choice at the moment, but to get on with it, regardless of personal opinion or wishes. This is not a political rant; rather it is aimed at highlighting the MADE IN BRITAIN campaign which 'Supports and promotes British Manufacturing, enabling buyers and consumers at home and abroad to identify British-made products.'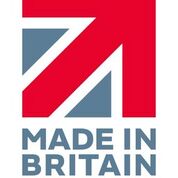 In 2011 British based cooker manufacurer Stoves found that some business's traded off their British origins but were not actually still making goods in Britain. A subsequent Which survey found that 84% of British people said they would buy a product if it was wholly or mostly made in Britain.
In 2013 an independent organisation called the Made in Britain Campaign was founded and membership was open for people who manufactured or produced British goods. http://www.madeingb.org/
John Ladbury and Company is a British company and proud to be a member of Made in Britain. We manufacture hand-made kitchens and furniture in our workshop in Welham Green and have a large showroom also in Welham Green. We use British based companies for our appliances, timber and sundries wherever possible.

The list of British companies that have been sold abroad in the last ten years or so has grown considerably and sadly is still growing. Who'd have thought Weetabix, Hartley's Jam, Boots the Chemist and even our own National Lottery, Camelot now belong to overseas companies? Not to mention Harrods and Cadbury's, once the nation's favourites. If you don't want to see our British Business's closing or leaving our shores, look for the Made in Britain Logo and buy with confidence.
We are a small family based business and do not sell goods abroad but we proudly display our Made in Britain campaign logo so that companies who do export to the Continent and further will begin to recognise the distinctive Logo.
A few of the British Business's we use:
Westin cooker Hoods:www.westin.co.uk
Shaws ceramic sinks:www.shawsofdarwen.com
Parrin And Rowe taps: www.perrinandrowe.co.uk
Armac Martin handles and doorknobs: www.martin.co.uk
Finesse: www.finessedesign.com
Falcon: www.falconappliances.com